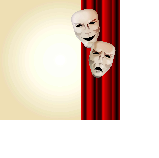 Producer - Director - Sales/Marketing Executive
Professional, Driven, Creative, Focused, Results Oriented
"I credit the ARTS for providing me with the skills necessary to perform well in a versatile and ever-changing world."
Address:
P.O. Box 3733
Greenville, Delaware 19807
Email: Jeff@JAlexanderProductions.com
I am passionate: I work everyday to exceed the expectations of my peers, friends, and family.
I am driven: I learn about different cultures, people, and food by traveling the world.
I am social-cause focused: I serve others by spending much of my free time volunteering with local and national nonprofit organizations.
Throughout my career, I have worked for non-profits and for-profits. My experience has provided me a multitude of opportunities. Over the past 35 years, I have Produced and Directed hundreds of large-scale stage shows, theatrical events, training videos, and more. I have worked in front of and behind the camera in movies, instructional programming, and commercials. I have spent years in healthcare business development, marketing, and public relations. Everyday I try to maintain a "true north" focus and attitude. Everyday I try to be the best citizen a person can be. Everyday I try to leave a legacy that would make my mom and dad proud.